21 Mar 2014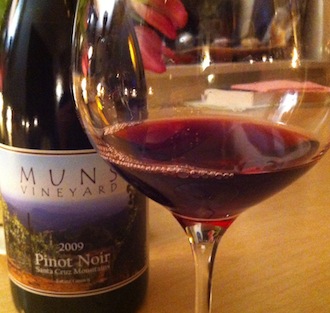 From Muns Vineyard comes a spectacular example of Santa Cruz Mountains terroir.
Muns' 2009 Estate Pinot Noir is everything you could want in a brilliantly balanced wine. From the nose of white pepper, roses, and licorice, straight into an expanding heart of tangerine, bay leaves and a long, slow finish ot black cherries, this is a gorgeous pinot noir. Its luscious 100% pinot noir grape composition has been coaxed into elegant nuance by aging in Hungarian oak, and at a highly desireable 14.1% alcohol it is light enough to partner almost anything, yet won't get in the way of simply kicking back and enjoying.
This could be one of the top five pinot noirs I've ever tasted, and one that justifies our pride in what the SCMtn appellation can produce. Stop by VinoCruz and buy what remains after my recent purchase (I emptied out my piggy bank). At $40 this memorable Muns creation rivals many Burgundies at triple the price.